Evaluación de las características ultrasonográficas testiculares en alpacas macho y su relación con los niveles de testosterona
Palabras clave:
Alpaca, Elisa, testículo, testosterona, ultrasonografía
Sinopsis
El propósito del estudio fue evaluar las características testiculares mediante ultrasonografía y su relación con los grados de testosterona en alpacas macho. El estudio se realizó en el Centro Experimental de Chuquibambilla, fueron utilizados 30 alpacas  reproductores machos de diferente clase animal como son: 2 dientes (2D), 4 dientes (4D) y boca llena (BLL); se comparó las características morfométricas en modo B de largo, ancho, área y volumen testicular mediante una equipo ultrasongráfico SonoStar SS-8® con un transductor lineal, las características en modo Doppler, siendo el índice de resistencia (IR) e índice de pulsatilidad (IP) con un equipo US Draminski 4Vet® y evaluación de la concentración de testosterona con un equipo de ELISA; los análisis estadísticos fueron descriptivos, análisis de varianza, correlación de Pearson y de regresión logística. El largo testicular fue de 36.75mm para 2D, 34.1mm para 4D y 38.01mm BLL; el ancho testicular fue para 2D, 4D y BLL de 21.59, 19.69 y 21.01mm respectivamente; el volumen fue para 2D de 11.69, 4D de 8.77 y BLL de 10.93 cm3; el área testicular para 2D, 4D y BLL fueron de 6.59, 5.14 y 6.48 cm2 respectivamente; el IR testicular para 2D fue 0.54. 4D de 0.49 y BLL de 0.57; el IP testicular para 2D, 4D y BLL fue 0.53, 0.31 y 0.47 respectivamente; la concentración de testosterona para 2D fue 2.47, 4D de 8.45 y BLL de 22.66ng/ml; las características de modo B son altamente correlacionables, las Doppler y testosterona posee una asociación baja; finalmente al evaluar la cantidad de testosterona con todas las variables en conjunto solo se ve significancia en relación a la clase animal. En conclusión, la concentración de Testosterona muestra significancia con la clase animal, mientras que no existe relación alguna con las características B mode y Doppler de los testículos evaluados en alpacas macho.
Descargas
Los datos de descarga aún no están disponibles.
Referencias
Adams, C.L, C. Moir, Y P. Shiach, (1989). Plasma Progesterone Concentrations In Pregnant And Non-Pregnant Llamas (Lama Glama). Veterinaria Revista. 125: 618-620.
Barenton, B. Y J. Pelletier, (1983). "Seasonal changes in testicular gonadotropin receptors and steroid content in the ram". Endocrinology, 112 (4), 1441-1446.
Bott, Rodriguez, J., Sandoval, S., & Tibary, A. (2008). Relationship between testicular measurements using calipers or ultrasonography with testicular weight in alpacas (Vicugna pacos). Theriogenology, 70(3), 576. https://doi.org/10.1016/j.theriogenology.2008.05.012.
Bravo, W. (1998). Avances En La Fisiología Reproductiva Del Macho Llama Y Alpaca. Resumen XXI Reunión Científica APPA 1998 Puno-Perú.
Bravo, PW Y J. Sumar, (1991). Ultrasonografía Del Aparato Genital Del Macho Llama Y Alpaca. Res 7 A Conv Lnt Especialistas En Camelid Sudamer. Argentina: Jujuy. P: 24.
Bravo, P. W. (2014). Reproductiva Anatomy and Physiology in the Male. In Elsevier (Ed.), Llama and alpaca care: Medicine, surgery, reproduction, nutrition and herd health (First, pp. 152–153).
Bravo, P. W., & Johnson, L. W. (1994). Reproductive physiology of the male camelid. The Veterinary Clinics of North America. Food Animal Practice, 10(2), 259–264. https://doi.org/10.1016/S0749-0720(15)30560-0.
Bravo, P. W., Skidmore, J. A., & Zhao, X. X. (2000). Reproductive aspects and storage of semen in camelidae. Animal Reproduction Science, 62(1–3), 173–193.
Brito, M. B., Maronezi, M. C., Uscategui, R. A. R., Avante, M. L., Simões, A. R., Monteiro, F. O. B., & Feliciano, M. A. R. (2018). Ultrasonographic methods for evaluation of testicles in cats. Revista MVZ Cordoba, 23(3), 6888–6899. https://doi.org/10.21897/rmvz.1377.
Carpio, M. (1999). Presencia De Espermatozoides, Niveles De Testosterona Y Tamaño Testicular En Alpacas, II Congreso Mundial Sobre Camélidos Sudamericanos Cusco Perú.
Cebra, C., A. Tibary Y J.Saun, (2015) Llama And Alpaca Care. Edit. Elseiver, 1ra Edición, Canada.
Chacón, J., Navarro, L., Vargas, B. & Víquez, C. 2012a. Ultrasonography Of The Scrotal Contents In Sound For Breeding Zebu Bulls Extensively Reared In Costa R I C A . Repr Dom Anim. Vol. 47, Supplement 4: 519. Chacón, J., Navarro, L., Vargas, B. & Víquez, C. 2012b. Echographic Assessment Of Scrotal Contents In Extensively Reared Bulls. Repr Dom Anim. Vol. 47, Supplement 4: 520.
Chacón, J., L. Rafael y J. Otero, (2014). "Relación Entre La Circunferencia Escrotal, El Crecimiento Testicular Y Parámetros de Calidad de Semen En Toros de Raza Guzerat, Desde La Pubertad Hasta Los 36 Meses de Edad." Revista de Medicina Veterinaria (27): 73–87.
El Zawam, A., Tibary, A., & Patino, C. (2020). Basal Levels and hCG Responses of Serum Testosterone and Estrogen in Male Alpacas. Frontiers in Veterinary Science, 7(November), 1–10. https://doi.org/10.3389/fvets.2020.595856.
Escobar, M. (2000). Niveles Séricos De Testosterona En Relación Al Tamaño Testicular En Vicuñas Tesis Facultad De Medicina Veterinaria Y Zootecnia Universidad Nacional Del Altiplano Puno.
Febrez, Z. (1974). Análisis de crianza ganadera de la Granja Chuquibambilla (tesis de pregrado). Universidad Nacional Técnica del Altiplano, Puno, Perú.
Fernández-Baca, S. (1971). La Alpaca, Reproducción Y Crianza. Lima. Ministerio De Agricultura. Universidad Nacional Mayor De San Marcos. Instituto Veterinario De Investigaciones Tropicales Y De Altura. Boletín De Divulgación N° 7, 43 Pp. Fernández-Baca, S. (1993). Incremento Reproductivo En Alpacas De Explotaciones Comerciales Mediante Método De Empadre Alternado. Rev. Inv. Pec. IVIT A., Universidad Mayor De San Marcos, Lima.
Fricke PM (2002). Scanning The Future Ultrasonography As A Reproductive Management Tool For Dairy Cattle. Journal Of Dairy Science; 85:1918-1926.
Galloway, D. El Desarrollo De Los Testículos En Alpacas En Australia. En Actas De la Alpaca Industria De Australia, Canberra, Australia 2000 (Pp 21-23).
Gabor G, Sasser RG, Kastelic JP, Mezes M, Falkay G, Bozo S, Boros G, (1998). Computer Analysis Of Video And Ultrasonographic Images For Evaluation Of Bull Testes. Theriogenology; 50(2): 223-228.
Giffin JL, Bartlewski PM, Hahnel AC (2014). Correlations Among Ultrasonographic And Microscopic Characteristics Of Prepubescent Ram Lamb Testes. Experimental Biology And Medicine; 239(12): 1606-1618.
Giffin JL, Franks SE, Rodríguez-Sosa JR, Hahnel A, Bartlewski PM (2009). A Study Of Morphological And Haemodynamic Determinants Of Testicular Echotexture Characteristics In The Ram. Experimental Biology And Medicine; 234:794–801.
Ginther, O. J. (2007). Stallions and Bulls. In E. Publishing (Ed.), Ultrasonic imaging and Animal Reproduction: Color Doppler Ultrasonography (pp. 71–72).
Hart, B. y T. JONES, (1975). "Effects of castration on sexual behavior of Tropical Male Goats". Hormones and Behavior, 6, 247-258.
Hassani S (1974). The Principles Of Ultrasonography. Journal Of National Medical Association; 66:205–231.
Hafez, E. (2002). Reproducción e Inseminación Artificial en Animales, Editorial Mc Graw- Hill Interamericana, Séptima Edición México.
Hafez, J. y J. Quirke, (2002). "Testis size and plasma LII as aids to selection for fecundity in sheep". Anim. Prod. 24, 148 Abstracl.
Huanca, W. (1998). Importancia De La Evaluación Reproductiva De Alpaca Macho Resumen XXI APPA 98. Universidad Nacional Del Altiplano, Puno- Perú. Pp. 167-169.
Huerta, A., & Lavado-Casimiro, W. (2020). Trends and variability of precipitation extremes in the Peruvian Altiplano (1971– 2013). International Journal of Climatology, 41(1): 1-16.
Iason, G., D. Elston, (1993). Ultrasonic Scanning For Determination Of Stage Of Pregnancy In The Llama (Lama Glama): A Critical Comparison Of Calibration Techniques. J. Agric. Science. 120: 371-377.
Jaen, J. (1999) Biometría Y Consistencia Testicular De La Alpaca Tesis. Medicina Veterinaria Y Zootecnia Universidad Nacional Del Altiplano Puno.
Kutzler, M., Tyson, R., Grimes, M., & Timm, K. (2011). Determination of Testicular Blood Flow in Camelids Using Vascular Casting and Color Pulsed-Wave Doppler Ultrasonography. 2011. https://doi.org/10.4061/2011/638602.
Omer R, Giffin J, Hahnel A, Bartlewski P, (2012). Relationships Of Ultrasonographic And Magnetic Resonance Image Attributes To The Histomorphology Of Ram Testes. Reproductive Biology; 12(4): 355-361.
Ózsar, S. Giiven, B. Celebi, M. Kaikandelen, G. y Van de Wiel, D. (1990). "Testosterone and LII concentrations in the maJe Angora goat during puberty". Anim. Reprod. Sci. 23, 3 19-326.
Pechman RD, Eilts BE (1987). B-Mode Ultrasonography Of The Bull Testicle. Theriogenology; 27:431-441.
Pelletier, J. Chemineau, P. y Delgadillo, JA. (2000). "Seasonality of sexual activity and iís photoperiodic control in the adulí ram and he-goal". 1 lth Int. Congr. on Anim. Reprod. and A. 26-30, Junio, Dublin, Irlanda. 212-219.
Pierson RA, Adams GP (1995). Computer-Assisted Image Analysis, Diagnostic Ultrasonography And Ovulation Induction: Strange Bed Fellows. Theriogenolgy; 43:105-112.
Ramos, J. (2014). Tamaño Testicular Según Edad, Época Y Zona Agroecológica En Alpacas (Vicugna Paco)". Tesis Para Optar El Título Profesional De Médico Veterinario Y Zootecnista – Universidad Nacional De Altiplano – Puno.
Rodrigues, N. N., Rossi, G. F., Vrisman, D. P., Taira, A. R., Souza, L. L., Zorzetto, M. F., Bastos, N. M., de Paz, C. C. P., de Lima, V. F. M. H., Monteiro, F. M., & Franco Oliveira, M. E. (2020). Ultrasonographic characteristics of the testes, epididymis and accessory sex glands and arterial spectral indices in peri- and post-pubertal Nelore and Caracu bulls. Animal Reproduction Science, 212(November), 106235. https://doi.org/10.1016/j.anireprosci.2019.106235.
Sarlós, P., Egerszegi, I., Balogh, O., Molnár, A., Cseh, S., & Rátky, J. (2013). Seasonal changes of scrotal circumference, blood plasma testosterone concentration and semen characteristics in Racka rams. Small Ruminant Research, 111(1–3), 90–95. https://doi.org/10.1016/j.smallrumres.2012.11.036
Sumar, J., F. Franco Y V. Alarcón, (1990). Niveles De Testosterona Circulante En La Alpaca (Lama Pacos) Y Llama (Lama Glama) En Diversas Estaciones Del Año. Memorias 11 Jornada Internacional De Biopatologia Andina. Instituto De La Altura. Universidad Peruana Cayetano Heredia. Lima. Perú.
Sumar, J. (1991). Avances y perspectivas del conocimiento de los camélidos sudamericanos. Revista FAO. Pp. 114-117 Santiago-Chile.
Skidmore, L. (2000). Anatomía Del Tracto Reproductivo En Camélidos. Recent advances In Camelid Re- Production. Segunda Edición, Editorial Ivis, Ithaca, New York. USA.
Tibary, A., & Vaughan, J. (2006). Reproductive physiology and infertility in male South American camelids: A review and clinical observations. Small Ruminant Research, 61(2-3 SPEC. ISS.), 283–298. https://doi.org/10.1016/j.smallrumres.2005.07.018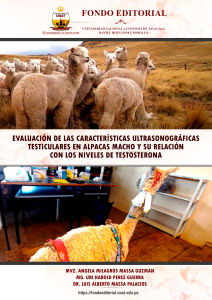 Descargas
Categorías
Derechos de autor 2023 Angela Milagros Massa Guzmán, Uri Harold Perez Guerra, Luis Alberto Massa Palacios
Licencia
Esta obra está bajo una licencia internacional Creative Commons Atribución-NoComercial-SinDerivadas 4.0.
Detalles sobre esta monografía